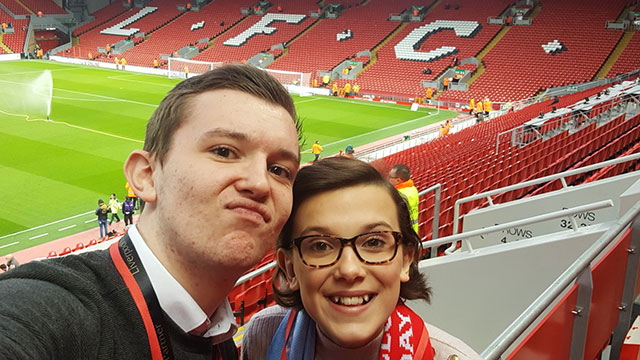 By Emma Rhodes
With millions of fans worldwide, it is no wonder LFC have a few star studded fans amongst those following the Red Men. From the weird and wonderful, to the casuals and the loyal fanatics, here are just some you may recognise in the Kop soon…
Stranger Things has taken Netflix and the world by storm and it turns out adorable Millie Bobby Brown (Eleven) was spotted at Anfield recently. The 12-year-old actress became a lifelong Liverpool fan after being persuaded by her Dad and older brother to follow Klopp's men. Millie says her favourite player is Philippe Coutinho and she even gets up at 4am in America to watch her favourite team play.
Another famous actress includes Angelina Jolie, who began supporting the Reds during her marriage to actor and Liverpool fan Billy Bob Thornton. Thornton began supporting Liverpool whilst visiting the UK, stating that he loves this city and claims scousers are "my kind of people." Jolie's son Maddox is apparently also a huge fan and aspires to play for the Reds one day.
Sex in the City star Kim Cattrall is a well-known supporter as, despite being brought up in Canada from only three months of age, she was actually born in Liverpool. The passionate fan often brings a clang of family and friends and Kim is often spotted screaming and celebrating from her seat. She has even gotten in trouble before after cheekily tweeting about Gerrard's bum, much to wife Alex's amusement.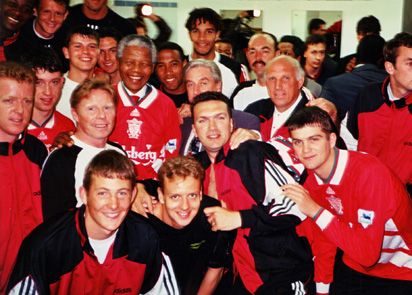 Actors Damian Lewis and Liam Neeson are also fans and Tom Hardy has been spotted in the VIP areas of Anfield. Clive Owen is also a big Reds fan and was even the narrator for Fox's Liverpool Documentary series, 'Being Liverpool'. Even James Bond (Daniel Craig) is a Red, and managed to meet the team during their summer tour in America a couple of years ago, posing for photos with the team in the dressing room.
Basketball phenomenal LeBron James is not only a stakeholder in the club, but also wears his Liverpool badge with pride during NBA press conferences. LeBron is another active Tweeter for the Reds and often shows his support from America. Other powerful fans included the late Nelson Mandala who has admitted to being a fan of the club, while Jerzy Dudek claims Pope John Paul II is also a fan, being a mean goalkeeper prior to his Papal days of course.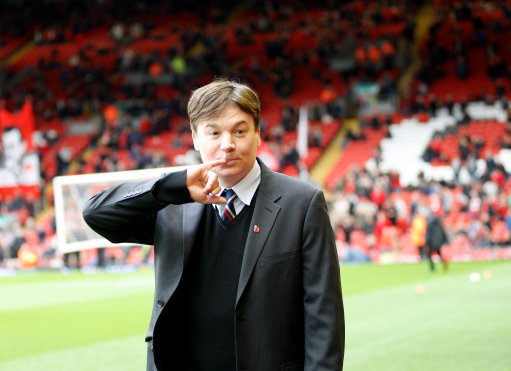 From across the pond, Mike Myers, who is well known for his role as Austin Powers, is a big fan as both parents were born in the Old Swan area and can often be spotted in the stands decorated in red scarves and shirts. Famous rapper and producer Dr Dre is supposedly a fan after seeing Liverpool on TV during a UK promotional tour. However one of the more well-known Liverpool fans is huge Hollywood star Samuel Jackson who fell in love with the club after filming here for the movie 51st State. Jackson is a frequent Tweeter and is often found watching or monitoring the games and expressing his excitement over social media.
(main image courtesy of @CABLFC8)
Latest Forum Discussion