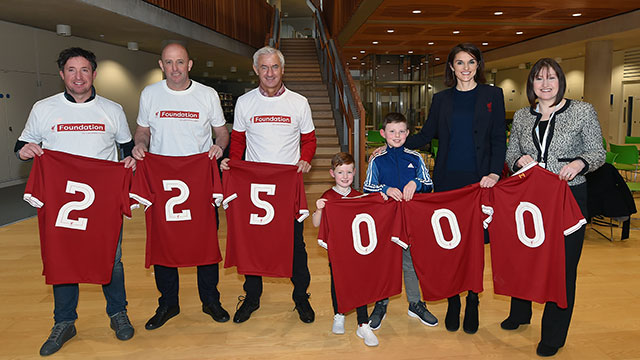 Liverpool Football Club's official charity, LFC Foundation, has made a £225k donation to Alder Hey Children's Charity for the hospital's new research, innovation and education facility.
The money was raised by Liverpool fans and the LFC family who attended the Legends Charity Match between Liverpool and Real Madrid last year.
The Institute in the Park, will enable the hospital to develop better, safer medicines and treatments to benefit young patients at Alder Hey and children across the world.
Their aim is to develop the next generation of medicines and interventions that are even more effective, and safer to treat children for generations to come.
The Institute will also be home to the Alder Hey Academy, which will aim to provide the very best healthcare education across the NHS and abroad.
Ian Rush, Robbie Fowler and Gary McAllister, who took part in the Legends Charity Match, visited the hospital to meet with some patients who are benefitting from the research taking place at Alder Hey.
"It is really fantastic to be able to make this donation to Alder Hey Children's Charity for such an important cause and we know from our fans that the health and life chances of children and young people is an issue close to their hearts," said Andrea Cooper, head of LFC Foundation
"We have a long standing relationship with the hospital and it is exciting to see the innovative research programmes that are being undertaken which make a huge difference to the lives of so many children and young people.
"It's thanks to our fans and the LFC family that we raised an amazing £1m at last year's legends charity match, in addition to funds raised at our other fundraising events, and we are hoping to achieve the same level of support this year.
"The funds we raise don't only fund our own Foundation programmes but they support our other charities and non-profit partners including; University of Liverpool and INTO University North Liverpool project, the Liverpool School of Tropical Medicine as well as Alder Hey Children's Charity."
This year's LFC Foundation Legends Charity Match will see the LFC Legends take on the legends of Bayern Munich on Saturday 24th March, 2018 at Anfield.