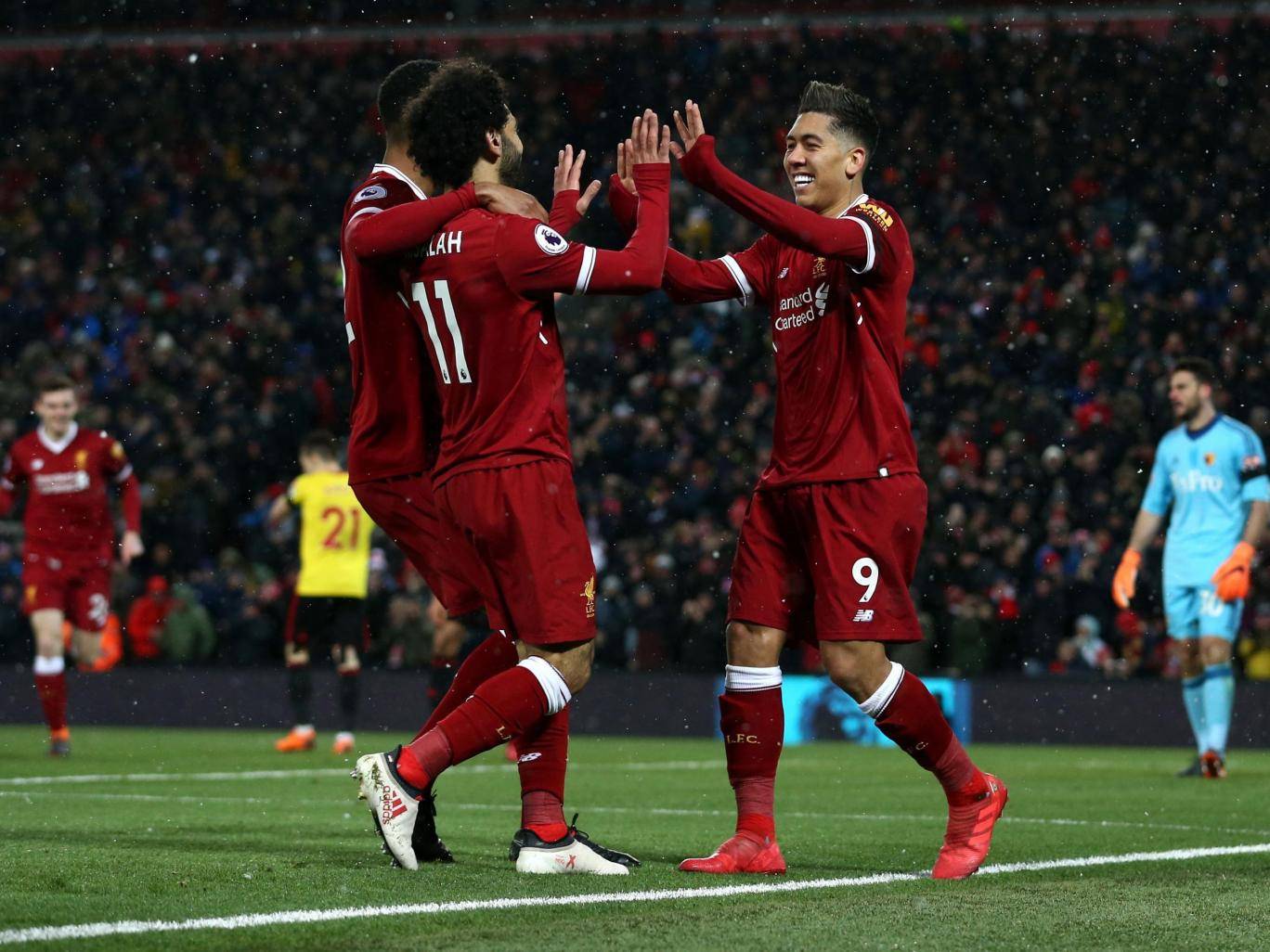 The Reds hit the Hornets for five in the snow, four of which came from little Mo. English fans couldn't ask for more, as Liverpool get Manchester City in the Champions League draw. The Good, The Bad And The Ugly, a week in review at the world's favourite football club, Liverpool FC.
The Good
The 5-0 drubbing of Watford at Anfield yesterday. Four goals from Mo Salah in addition to one from Roberto Firmino wrapped up a comfortable buy emphatic win against the Hornets. Yesterday, they were simply different class. You could even dig into the old box of clichés to pull out an "it could have been by more", but there really is no need. In fact, the result says it all. No more or less is needed.
Salah had scored two before half-time to put the hosts in the driving seat. However, this is Liverpool we're talking about and a two-goal cushion is seldom enough, sadly. When Firmino back-heeled in a crafty third five minutes after the restart, you'd have been either incredibly brave or... incredibly stupid, to have bet against the Reds closing this one out. Two more from the little Egyptian, the first of which oozed trickery, skill - not to mention calamitous defending from Watford, rounded off a sizzling display in freezing conditions.
Jürgen Klopp told the pre-Watford presser "...we want to go back immediately to the winning side." And this they certainly did. This display was light years away from the reverse fixture at the beginning of the season. Liverpool fell behind, laboured into the lead, and finally threw away two perfectly good points in the dying minutes of the game to draw 3-3.
RT If you think Mohamed Salah is the best player in Premier League. 🔴#LIVWAT pic.twitter.com/LQs7JhvHJe

— BenchWarmers (@BeWarmers) March 17, 2018
The Not Bad
Slightly outdone by yesterday's result, but the Champion's League draw on Friday afternoon. Perhaps not one for the purists, but one that every English fan will watch with relish. I speak only for myself of course, but I don't see many people disagreeing. Unless they don the blue of Chelski, or the dark pink of Manyoo on a Saturday, that is.
I'll be the first to point out that I did fancy one of the Manchester clubs (both were in the hunt at the time), so I'm well pleased with it. More so because of the fact that Liverpool are already the underdogs. Good. Ask an AC Milan fan how he felt on 25th Mav 2005. Or, a Chelsea fan after the semi-final of the same year. The saying goes you've got to be in it, to win it, and as long as the Reds remain in the competition, they have a chance.
Liverpool or Man. City? 🤔#UCLdraw

— UEFA Champions League (@ChampionsLeague) March 16, 2018
The last 10 games against Manchester City show: W6; D1; L3. That's not a bad record so I fail to see how the consensus can favour the team in blue. Three of those six wins have been in the last five matches, so this tie is 100% up for grabs and there for the taking. It just depends who wants it more in my opinion. Ultimately, bothered I am not and I remain quietly confident.
The Ugly
The recent furor caused by the Topman chain of clothing stores. For those who didn't know, the high street and online retailer released a shirt with "96 What goes around comes back around" emblazoned on the back. Needless to say, this has not gone down well with sections of the Liverpool faithful, who have taken the shirt as a slur against the 96 supporters who lost their lives at Hillsborough Football stadium on 15th April 1989.
Feelings are mixed, with many supporters saying it was a deliberate attempt to belittle the events. It's a difficult one. Topman have since withdrawn the shirt from sale and issued an unreserved apology. In addition, they also said the slogan is in reference to the Bob Marley song: What Goes Around Comes Around.
So it's a #BobMarley song and it's managed to get through god knows how many people before it's printed.

Just shows you how few people know about the biggest sporting disaster and cover up this country's ever seen #Topman #Topshop pic.twitter.com/V3qPjRG1Il

— Justice For The 96 (@TheHoodedClaw66) March 15, 2018
It's a great shame. I do not believe that this was intentional by the retailer. Irresponsible? Yes. Should they have known better? Likely, yes. It's a messy situation. However, I don't know if in every walk of life people could be aware of such an incident. What is true, however, is that companies/designers should at least try to have some insight into sensitive issues before embarking on projects.
March 16, 2018
The item has been removed from sale. Topman has apologised. I don't think they can have done more. Now, I think it's best we all put the matter behind us and respectfully move on.
Next up, Klopp and his men travel down to Saaaf London to face Crystal Palace. If the concept of a "bogey team" actually exists, then this is certainly it.
Follow Ben on Twitter @MrBengreen
Latest Forum Discussion