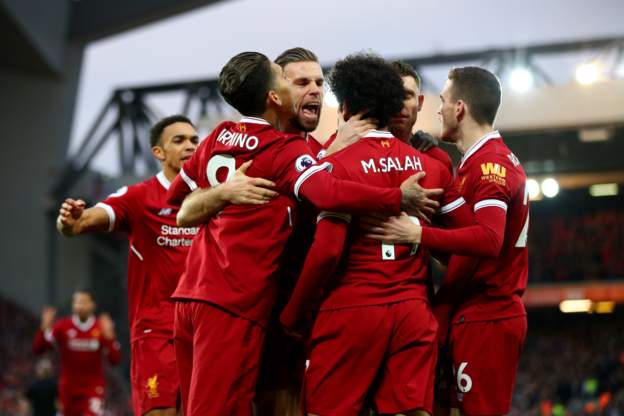 No replacement no. 10's just leavers out on loan, no wonder the LFC faithful winge and moan. The unbeaten home run continues, but conceding late on gives us all the blues. The Good The Bad and The Ugly, a week reviewed at the world's favourite football club, Liverpool FC.
The Good
Not much to shout about this week so we scrape the cliche barrel to "take some positives" from yesterday's draw at Anfield against Tottenham Hotspurs. Yes, the team threw away the lead - twice (we'll get into that later), and yes, they conceded two dubious penalties. But, lose they didn't.
Fact is, Liverpool, retain that hard to beat edge at home. Let's not forget that although yesterday's visitors are below us in the table, they remain genuine contenders and one of the Reds' main competitors. For that, the team deserves credit for getting something out of a game that could easily have been snatched away from them by determined opposition... and dodgy refereeing.
A superb goal by former Liverpool transfer target Victor Wanyama - reminiscent of the goal that Tony Yeboah scorched past David James for Leeds at Elland Road some years ago. I don't think many 'keepers would have been able to resist that effort.
The Bad
The closure of the January transfer window without a replacement for the departed Philippe Coutinho. Much has been made of the hefty transfer receipt and it's fair to say one would have expected this to be immediately reinvested in the team.
Jürgen Klopp was, as usual, in no hurry to plug the gap left by the little Brazilian's departure and instead seemed content to rest on the sole (notable) purchase of Virgil van Dijk as this window's sole arrival. In addition, sending Daniel Sturridge and Marko Grujic out on loan are simply baffling decisions.
Jamie Carragher said he felt that Liverpool will finish in the top four this season, but are a weaker team without Coutinho. Agreed. However, I'd go one further and say they're a weaker squad without Sturridge and Grujic. Both of these have something to offer. The question is just whether Klopp feels that something will help the team.
When all is said and done, the Liverpool squad is definitely weaker for the departures this January and with the business end of the season approaching, I remain to be convinced.
Danny Ings is yet to convince. He definitely deserves a chance. One can't deny that, but ahead of Sturridge? I'm not so sure. It's a bit like robbing Peter to pay Paul and still not having enough afterwards. It just doesn't make sense!
The Ugly
The refereeing decisions in yesterday's game. Shocking. Baffling. Inconsistent. Ridiculous. Whichever adjective you use won't come close. A shucking fambles will do.
For those claiming Kane becomes onside after Lovren's touch, that's not the case. This (example 13) is from page 116 of FIFA's laws of the game. A sliced clearance by Lovren does not constitute a deliberate touch. Officials got it wrong. #LIVTOT pic.twitter.com/PKvLwgeT3r

— Mark Donaldson (@DonaldsonESPN) 4 February 2018
This is why I've focused on what Good was left from this week. Liverpool were ultimately robbed by the inconsistent decision-making of Mr. Moss, the guy in the middle. Tottenham got out of jail yesterday. There were three quality goals scored to be fair, but yet it's decided by the most ridiculous of moments.
"They've got better referees on the streets of Cairo mate" - Mohamed Salah #LFC #LIVTOT #NotReally pic.twitter.com/acB8hhYqNg

— LFC Photo (@LFCphoto) 4 February 2018
It is what it is. I'd be more incensed had Liverpool lost because that would have been the biggest injustice since Andy Dufresne. One would like to think there would be an inquiry of some sort of this but perhaps that is a hope too far. Perhaps this is just my sour grapes after the injustice the team dealt themselves in losing to Swansea City. We move on.
Next up we have a trip down to the south coast to meet develop the love-hate relationship with none other than Southampton.
Follow Ben on Twitter @MrBengreen
Latest Forum Discussion