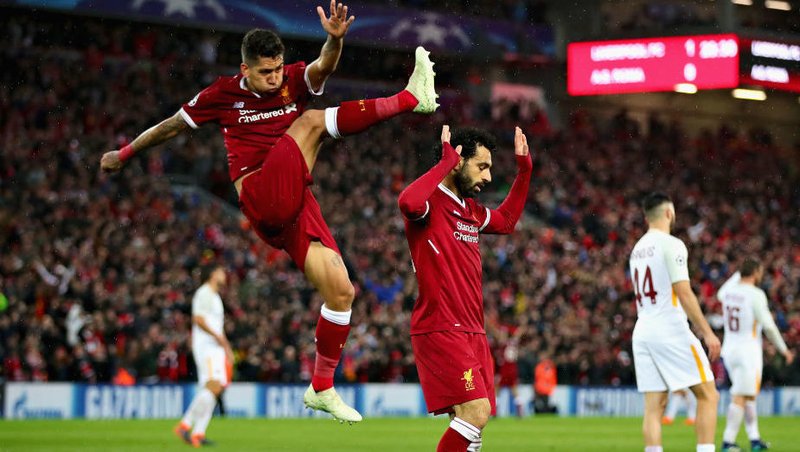 In the Champions League the Reds sit pretty, despite the bore draw against Stoke City. Jürgen Klopp vents his aggravation, with Liverpool fans showing their frustration. A newspaper story is retracted, as blasts from the past are sadly re-enacted. The Good, The Bad and The Ugly, another week reviewed at the world's favourite football club Liverpool FC.
The Good
Without a doubt the Champions League semi-final win over AS Roma at Anfield on Tuesday.
This must rank as one of the club's best performances in Europe's flagship football competition. Jürgen Klopp (thankfully) made the expected changes to the team that stumbled to a draw at the Hawthorns a few days before.
Out went Ragnar Klavan, Alberto Moreno and Danny Ings. In came Dejan Lovren, Andy Robertson and Roberto Firmino, in addition to Trent Alexander-Arnold and Alex Oxlade-Chamberlain. With the exception of not conceding two away goals, Liverpool fans could not t have asked for more on the night.
Two goals a piece from Mo Salah and Roberto Firmino and another from Sadio Mané put the fans in dreamland. Liverpool were simply too good for their visitors and were good value for their lead up until 89 minutes. Then of course, in true Reds fashion, the wheels fell off the bandwagon that took them to dreamland.
What a fantastic game! Salah is a really big player. I hope @LFC will go to the finale, good luck for the return match, lads! #LIVROM #LFC #YNWA 👏🏾🔴 pic.twitter.com/HnrSwRcuYr

— Momo Sissoko (@sissokomomo) April 24, 2018
Ex-Manchester City striker Edin Dzeko rattled Anfield as he pulled one back for Roma who up to then had looked all but dead and buried. With five minutes left, the most dubious of penalties was awarded against Liverpool when the ball touched Janes Milner's hand in the box. Up stepped Diego Perotti to ram the biggest of spanners in to the works of the home team's glee.
This tie is needless to say far from over. The two goals could well prove to be Liverpool's undoing. Wednesday is going to be a big, big night for the Reds. Can they go all the way to the final?
The Bad
Jürgen Klopp criticised Liverpool fans following yesterday's drivel that was the 0-0 draw with Stoke City.
The manager showed his frustration in a post match interview saying "You have to be on your toes because that helps the players. Not watch the game and think 'oh that's a hit pass', everybody saw it's a shit pass, you don't have to meet it with 'ohhh'. That doesn't help."
Voilà pourquoi on en a jamais assez de Jurgen Klopp... pic.twitter.com/9XI8atYsJb

— Olivier Brett (@Olivier_Brett) April 28, 2018
Perhaps it doesn't Jürgen but it's inevitable the supporters will let their frustration known. There's absolutely nothing wrong with that. Perhaps had they "booed" then I could understand. However, this is simply a reaction.
I think we've all seen Klopp lambasting a player for a poor pass or being in the wrong position or whatever. Likely the player knows this too, so is the manager behaviour helping? Probably not. If so, then I see no issue with the supporters doing the same.
Fact is, the team played poorly yesterday. Unlucky? Yes at times, but they didn't really get it together and I believe there is a lot of energy focussing on the upcoming trip to Rome. Without a doubt.
This happens sometimes and Klopp needs to accept this. Roll on Wednesday, and move on Jürgen. Next!
The Ugly
The ugly and violent scenes before Tuesday's game should surely by now be a thing of the past. Sadly, as long as people watch football, and as long as the odd idiot watches football, violence will remain in the game. The same can be said for the repeated idiocy and shortsightedness of those who report it.
Liverpool Mayor Joe Anderson, this week intervened this week after the Express carried a story that appeared to suggest Liverpool fans were responsible for some unsightly scenes before the game.
Really passionate,sincere heartfelt apology just been made to me by the Editor @Daily_Express Gary Jones over the appalling slur on LFC fans and our City. The Journalist concerned has rightly been suspended and an investigation is being held.

— Joe Anderson (@mayor_anderson) April 26, 2018
What's more, the article came two years to the day after Liverpool fans were acquitted of blame for the Hillsborough disaster. The Mayor also went on to confirm the journalist concerned had been suspended.
I'm astounded at the sheer ignorance displayed by some journalists who appear more concerned with their own legend than what is right and proper. I don't believe the author Colin Mafham meant to offend. However, sensitive subjects require careful wording and this obviously wasn't exercised.
Hopefully this will be a lesson learned for him and for others who tackle the topic. Be tactful. Be factual. Be respectful. I fear this may not be the last time we're subjected to such "opinion".
Next up we have the not insignificant matter of a trip to Rome to try and gain a place in the Champions League Final. Need I say more?
Follow Ben on Twitter @MrBengreen
For Life, Business and Career Coaching, go to
www.mycoachben.com
for more details and to arrange a confidential chat. Your life deserves the best!
Latest Forum Discussion