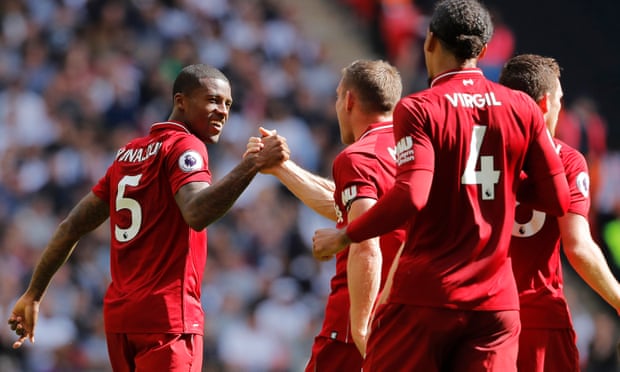 Klopp's men put two past the Spurs, and in truth, it could have been worse. The week was dominated a Mr G. Neville, who in the main talks absolute drivel. Still, the Reds remain on a high, despite Roberto Firmino getting a finger in the eye. The Good, The Bad and The Ugly, another week reviewed at the world's favourite football club, Liverpool F.C.
The Good
The strong start to the season continues. Liverpool put in a strong performance against Tottenham Hotspurs on Saturday to run out comfortable winners. To use the old cliché, it really could have been more. Stout goalkeeping from Michel Vorm kept the scorelinerespectable as the Spurs suffered their second successive defeat.
A first-half effort from the revitalised Gini Wijnaldum put Liverpool ahead before the break in controversial fashion. The "Goal Decision System" proving his header from James Milner's 39th-minute corner had crossed the line. Vorm had pulled off a great stop. It was just inside of the goal which sadly for the hosts doesn't count.
Chances came aplenty in the second half. Firmino doubled the lead capitalising on Vorm's spill from Mané's cross, to put the Reds firmly in the driving seat. The Spurs 'keeper made amends though pulling off creditable saves from Naby Keïta, Sadio Mané and Mo Salah.
Credit goes to Milner for his Man of The Match performance. Considering the man is knocking on 33, he seems to be getting better with age like a good whiskey (desperately trying to avoid the wineadage).
Man of the Match, James Milner
67 touches
32 passes opp. half
4 crosses
3 chances created
12.90km distance covered, most in game#TOTLIV pic.twitter.com/7e5KWiof4c

— Sky Sports Statto (@SkySportsStatto) September 15, 2018
Erik Lamela gave the hosts hope with an injury time finish from an acute angle. Liverpool however, looked no more like conceding, than Tottenham deserved anything from the game. 95 minutes and three points. End of story.
Liverpool now sit second behind Chelsea, courtesy of goal difference. This is shaping up to be a three horse race along with Manchester City. Early season surprise package Watford saw their wheels of joy fall off, losing at home to Manyoo. What a season this is shaping up to be?
The Bad
Remarks from another former player turned Pundit. One Gary Alexander Neville claimed Liverpool should concentrate on the league in order to win the title. Jürgen Klopp quite rightly, treating his comments with the contempt they deserve. Or do they?
To be fair - and as much as I hate to say it, Neville has a point. Speaking purely from my heart. It'd be great to win the Champions League again. However, as Bill Shankly once said "The League [...] that's our Bread and Butter"I would trade getting knocked out of the Champions League any day... so long as this meant we could win the league. Absolutely no question about it.
Neville moved to elaborate on those commentshttps://t.co/tSLdh1b9Bu

— Liverpool FC News (@LivEchoLFC) September 16, 2018
The former United right-backqualified his comments in the Echo yesterday. His point regarding Liverpool's front three was spot on. Beyond Mané, Salah and Firmino, there is nowhere like the quality to replace them. I don't believe any Reds fan would be happy seeing Dominic Solanke, Divock Origi and/or Daniel Sturridge leading the front line. Sad but very, very true.
With the exception of Sturridge, the other two are average at best. Could we count on Xherdan Shaqirior Naby Keita? Not up front, no. As quality players as they are. They don't come close to the first choice three.
Whatever we may think of Nevill, he's talking sense and I don't really see any way of contradicting him in this occasion.
The Ugly
This has got to be poor Bobby Firmino on the receiving end of a poke in the eye from Spurs defender Jan Vertonghen.
Considering this was the lunchtime kickoff, you can forgive those who baulked on their cod and chips when this happened. Especially after seeing the picture that was circulated after the match.
Imagine a Liverpool defender did this to Harry Kane. There would be national outrage and a subsequent ban. But, despite Roberto Firmino suffering an abrasion to his eye, the incident gets minimal attention. #TOTLIV pic.twitter.com/KvdyA9EX8z

— Adam Keys (@_AdamKeys) September 16, 2018
It clearly looked worse than it was as the Brazilian is now said to be "OK" It looked innocuous enough until you saw the blood coming from Firmino's eye and face.
To come this week, an intriguing match against the French Champions on Tuesday. Followed by the visit of Southampton to Anfield on Saturday. A tricky week ahead but by no means insurmountable to come out with the momentum maintained.
Ben Green
Follow Ben on Twitter @MrBengreen
For Career, Business and Life Coaching, check out www.mycoachben.com for more details and to arrange a confidential chat. You deserves the best!
Latest Forum Discussion