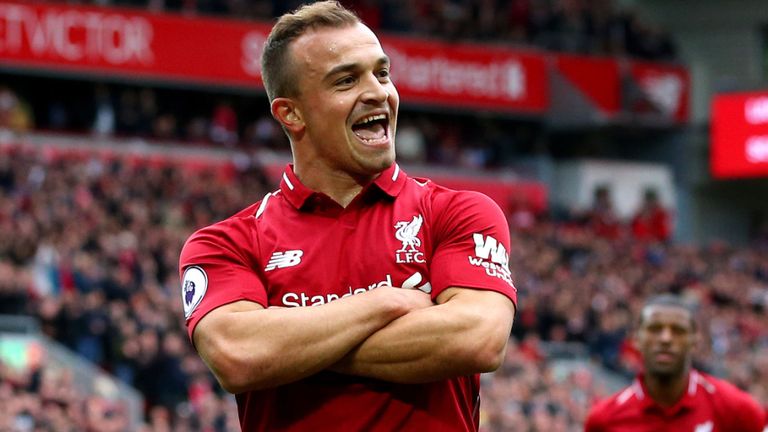 It is fair to say that patience is a virtue that the Swiss attacking-midfielder has had to adopt so far in his early career on Merseyside. However, whilst the signs are that Liverpool's current front three are carrying their devastating form into this campaign, yesterday's routine victory over Southampton displayed the many qualities that Xherdan Shaqiri is going to bring to the side.
Indeed, many have already bore witness to those same qualities in a Stoke City shirt in which Shaqiri was undoubtedly the undeserved villain of that sides dismal slide from the Premier League. The slight, barrel shaped man routinely lit up stadiums with his close control, wonderful technique and the eye for the wickedly wonderful.
The criticism of Shaqiri in the post mortem of Stoke's season by figures, most notably like Charlie Adam, only seemed to emphasise the disunity and misdirection of a team that had long since outstayed their welcome in England's top flight. Many more balanced observers, including some former managers, regularly cited him as one of the few positives for the Staffordshire club.
The impression early in Liverpool's pre-season was that the man born in Kosovo was back where he belonged within a top side. Mark Hughes commented yesterday that Shaqiri always "felt he was a top-six player". This was apparent even in his first notable on-pitch moment, his stunning bicycle kick in Michigan in the International Champions Cup.
In many ways his most impressive attribute so far has been the commitment to being a good team mate and valuable squad member due to his limited on field action. Many Reds have been calling for him to be unleashed sooner, with Jurgen Klopp reluctant however to alter his winning formation.
However, yesterday felt like the ideal time in what was always going to be a match of attack versus defence. Thankfully Shaqiri did not miss the opportunity to again display his talents, but also display a tactical shift that has the potential to vastly increase Liverpool's already ravaging attacking prowess.
In fact, so effective was the midfielder in offensive situations and in impacting the balance of Liverool's attacking shape; Klopp opted to remove him at half time for the more structurally solid Milner in order to reinforce Liverpool's grip on midfield. It was probably also a wise decision in light of some big games coming up that he is sure to feature in.
What yesterday proved however is that Xherdan will provide great dynamism in games that Liverpool are expected to dominate possession and enforce themselves on the opposition. His work in midfield proved that; moving between the lines and complimenting the work of the front 3 very impressively with pace and skill.
His delivery both in play and also through set pieces is of an incredibly high standard and was reflected in Liverpool's opening, an own-goal coming off Hoedt from the Shaqiri cross and then further with Liverpool's third being despatched by Salah after a powerfully struck free-kick from the Swiss man.
Many Reds fans were disappointed by the eventual outcome of the Nabil Fekir transfer saga; noting that he would have provided an ideal replacement for Philippe Coutinho at the top of the midfield or in one of the forward positions. Thankfully however, the potential of Shaqiri to step into those shoes is there for all to see.
If there is one valid criticism of him is is that consistency has never been his strongest attribute. That does not seem like it will be a big issue at Liverpool with his current position in the side. Being part of a large squad means that the onus that was previously burdened by his broad shoulders is more equally shared out among the varied talents in red. His moments and games will come with time and they are likely to be exciting and get the crowd at Anfield off their seats.
Chris Leebody
Follow Chris on Twitter @ChrisLeebody