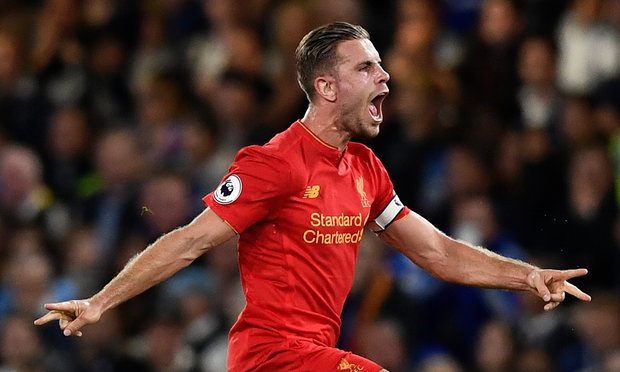 Throughout the course of football history the game has produced players that split opinion. These players are worshipped by some, but loathed by others.
These players have been the topic of great debate over the years (usually in the pub over a pint or three). The likes of Mario Balotelli, praised by some as a football Genius, by others labelled a lazy cart horse who is wasting his talent.
Or the likes of Dirk Kuyt, labelled by some as the 'Working Class Hero' for his efforts on the field, but others would say he worked hard but had little talent.
These debates are part and parcel of what makes football the great sport it is. There is no right or wrong answer, it is all about opinions, and there is no player who divides opinion more than Jordan Henderson. In political terms he is the footballing equivalent of Brexit!
Henderson signed for Liverpool in the summer of 2011 under the instructions of the then Director of Football 'Damien Comolli'. He was tasked with rebuilding the Liverpool squad with the aim of giving it a 'British Core' and he was given substantial money to do so.
Under Comolli's stewardship Liverpool signed Henderson, Andy Carroll, Luis Suarez, Stewart Downing, Craig Bellamy (Free), Charlie Adam, Jose Enrique, Sebastian Coates, and Doni.
A quick glance at that list will tell you that Henderson is the only one still left at the club.
He divided opinion from the off as did many of Comolli's signings. For every Suarez you want to remember there was a Charlie Adam who you would like to forget!
His first season at Liverpool was a mixed one, in and out of the starting 11 and mainly deployed on the right of a midfield four by Kenny Dalglish. His most memorable contribution of the season was being controversially selected ahead of Kuyt in the League Cup final against Cardiff. For those that need reminding, it was Kuyt who came on in place of Henderson and scored the equaliser before the Reds won 3-2 on penalties. Kuyt's heroics that day did not help Henderson's cause as he began the seemingly thankless task of trying to win his doubters over.
When I look at Henderson's career for both Liverpool and England it strikes me as a case of being in the right place.... but at the wrong time.
When signing for Liverpool he was seen as the long-term replacement for Kuyt on the right. The Dutchman was for many a cult hero which therefore meant Henderson had big boots to fill. Under the guidance of Brendan Rodgers, Henderson was moved infield and played alongside club legend Steven Gerrard. When Gerrard left the club Henderson took his place not only as the centre of the team, but also as the captain! This time he had even bigger boots to fill.
On the International stage meanwhile, as Henderson was making his breakthrough into the national team, England's 'Golden Generation' was coming to it's end. For a decade England fans had seen the likes of Gerrard, Frank Lampard, David Beckham, Paul Scholes and more wear the famous white shirt. The generation that followed paled in comparison (on paper anyway).
Naturally as one player replaces another comparisons are made and, at each step along his journey, Henderson has been asked to fill the shoes of a club legend or an international star. This is where the criticism starts.
One of the biggest criticisms thrown his way is that he is a 'sideways passer', always looking for the safe option, I can only assume this is said by those who don't understand his position. His task under Jurgen Klopp is to protect the back four and keep play ticking over. This is exactly what he does and he does to great effect. N'Golo Kante at Chelsea is tasked with a similar job but you don't hear the groans when he passes sideways, you just hear the cheers for him winning the ball back.
Jordan Henderson is not a flashy player. You will not see him on many MOTD highlight reels or YouTube montages. However what he does do he does well, and you know with Henderson you will always get a model pro who gives 100% every game.
Henderson's career is full of 'what if' moments. Arguably if some of these moments had gone his way there would not be so much cause for debate.
If VAR was around for the 2012 FA Cup Final then Henderson would likely have a winners' medal as Andy Carroll's header 100% crossed the line. In 2014 he was a Gerrard slip away from winning the Premier League.
In 2016 an inspired Willy Caballero performance kept the Reds out as Man City won the League Cup Final and later that same season Alberto Moreno momentarily forgot he was no longer a Sevilla player in the Europa League Final as Liverpool threw away a 1-0 lead.
In 2018 Henderson captained Liverpool to a Champions League Final where even the most bias of fans would agree that luck was not with the Reds that night. The World Cup soon followed where Henderson was an integral part of the England team that was 20 minutes away from reaching the final. It was England's first semi-final since 1986.
If things had gone Henderson's way then that would be quite an impressive trophy haul.
Trophies however are not always a good gauge of a player's talent, otherwise you would argue that Phil Neville is one of the greatest to of ever played the game! But what is important to note from the examples above, is that Henderson was integral to every single cup run and trophy push. If he was as bad as some of his doubters claim I very much doubt he would have been. Or that after seven years he would still be at a club the size of Liverpool
I personally am of the opinion that Henderson is a great player. When the Reds 'click' he is normally in the side. I just hope over the coming years he wins the trophies to help gain the recognition I feel he deserves.
Lee Standen