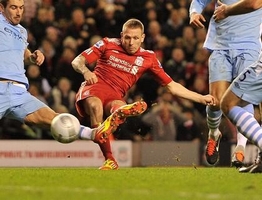 Craig Bellamy stuns Manchester City and books Liverpool's Wembley date
Liverpool have booked their first trip to Wembley since 1996 and, after waiting so long, they will be eager to see how the old place has changed. Kenny Dalglish's team deserve their place in the final because over both legs they played with the greater urgency and determination, culminating in Craig Bellamy's decisive goal against his former club and a nostalgic form of jubilation at the final whistle.
For Bellamy it was an evening he will cherish, given the way his time at City ended so acrimoniously. He will have relished making his point to Roberto Mancini, the manager who marginalised and sold him, and the reward is considerable, with a final on 26 February against the Cardiff City team where he decamped last season.
For Liverpool, though, the story goes much further. Sixty different teams have visited Wembley since it was reopened in 2007 and, for a club with Liverpool's past, it has been longer than they would care to remember since they last ventured south for what was once a near-annual excursion. They will be the clear favourites to beat the Championship's third-placed team and win their first trophy of Dalglish's second spell in charge. City will go back to thinking about the Premier League and clearing their minds after a gruelling run of fixtures while missing key players.
The Guardian
Bellamy sets Liverpool against former club at Wembley
Liverpool ended a 16-year wait for a return to Wembley as they held off Manchester City to set up a Carling Cup final against Cardiff next month.
Former City striker Craig Bellamy was the hero for the team he rejoined in August, scoring the decisive goal 16 minutes from time.
The Wales international played a pivotal role throughout and will now face another former club - and city of his birth - Cardiff, as the Reds seek to end a trophy drought dating back to 2006.
Watching Liverpool owner John Henry will hope it is the start of a revival at the club he bought almost 18 months ago.
The Independent
Liverpool book place at Wembley in Carling Cup final as Craig Bellamy returns to haunt Manchester City
So dust down those ice-cream vendor suits and dig out those garish stripey ties, Liverpool are back at Wembley for the first time since that sartorially challenged 1996 FA Cup final trip.
When Phil Dowd called this epic contest to a close, a roar of almost visceral intensity rose from the Kop. Liverpool fans screamed euphorically, twirling their red scarves above their heads and starting planning their southern invasion. They have been to the Millennium Stadium in Cardiff, winning finals there while the Twin Towers became a single arch, but Wembley has always figured strongly in Liverpool reverie.
Willed on by their fans, Liverpool extended their record of unbeaten semi-finals here to 28 (their last reverse coming against Leeds United in the 1971 Fairs Cup). For once this season, Anfield was overjoyed at a home draw. As the supporters celebrated, Kenny Dalglish held his arms aloft in that familiar manner from his prolific scoring days here. He had challenged his players to perform and they responded. He had left Andy Carroll on the bench and was vindicated as his lone front-runner, Craig Bellamy, conjured up a vintage display.
Daily Telegraph