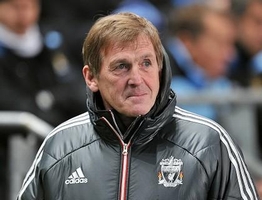 The club and the player reluctantly accepted the eight-match ban and ?40,000 fine - meaning the striker was unavailable for the 3-0 defeat at Manchester City. However, Dalglish refused to back down in the long-running row over how the situation has been handled and claimed the 115-page report which damned Suarez's evidence failed to mention several salient facts.
He would not elaborate on what those where but said after both the club and the player issued statements: "I don't think we are digging a bigger hole - it is unfortunate we cannot be more forthcoming. There are a lot of things we'd like to say and a lot of things we could say but we don't want to get ourselves into trouble."
He added: "We know what has gone on; we know what is not in the report and that is important for us. But without me getting myself in trouble, that is me finished.
"It is unfortunate that you don't actually know the whole content of what went on at the hearing. I am not prepared and I cannot say. I cannot go any further."
Suarez maintains his innocence and admits the last two months have left him feeling "powerless" over the accusations which were made against him.
"Never, I repeat, never, have I had any racial problem with a team-mate or individual who was of a different race or colour to mine. Never," he said in a statement.
"I am very upset by all the things which have been said during the last few weeks about me, all of them being very far from the truth. But above all, I'm very upset at feeling so powerless whilst being accused of something which I did not, nor would not, ever do.
"In my country 'negro' is a word we use commonly, a word which doesn't show any lack of respect and is even less so a form of racist abuse. Based on this, everything which has been said so far is totally false.
"I will carry out the suspension with the resignation of someone who hasn't done anything wrong and who feels extremely upset by the events."
Source: PA
Source: PA