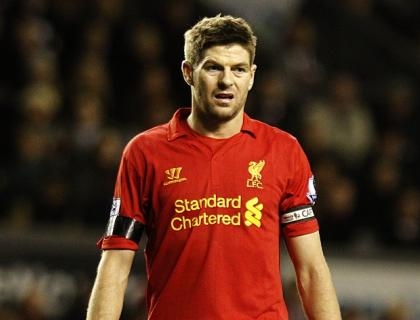 Since Rodgers' arrival in the summer the Reds have opted to sign young players with the likes of Joe Allen, Fabio Borini and Daniel Sturridge all yet to celebrate their 24th birthdays. Gerrard, 34, is unsure whether that is the right policy to ensure Liverpool, currently eighth in the Barclays Premier League, get back to challenging for the Champions League places again.
"I disagree with the policy to be honest," he told various newspapers. "I've seen many signings throughout the world who have gone to clubs at the age of 28, 29 or even older and done fantastic jobs. Gary McAllister (who arrived in 2000 aged 35) when he came here, for one."
He added: "I can understand the policy that everyone wants young, bright, British players - but I don't agree 100% that that should be the only way. I learned bucket loads from Gary McAllister."
Liverpool are not the only club who have focused on youth this term with Chelsea yet to offer new deals to elder statesmen Frank Lampard and Ashley Cole, while Aston Villa's fight against relegation is being undertaken with a vastly inexperienced squad.
"The main example at the moment is if Chelsea don't keep Frank Lampard. Someone is going to get a bargain. What is he, 34?" Gerrard said.
"It's not my business what Chelsea do but if they don't renew Frank's contract someone else is going to get a really good player for a few years."
Liverpool's most obvious transfer success in recent years has been the signing of Luis Suarez - who arrived from Ajax as a 24-year-old in 2011 - and Gerrard believes he has surpassed Fernando Torres and England team-mate Wayne Rooney as the best striker he has teamed alongside.
Suarez has put the controversies that have followed him since his arrival in England aside to be the second leading Premier League goalscorer this term, with 15 strikes.
"Luis is the best centre forward I've played with," he said. "He probably won't get the credit he deserves after everything that's happened and everything he's been through but he will from me. He's a fighter and he's a winner."
Source: PA