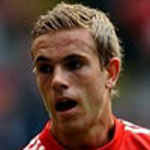 "There are a lot of people who want to play in the final and some will be disappointed," said the Liverpool midfielder.
"Everyone will be training hard all week and we're all desperate to get into the starting line-up. It's up to the manager to decide.
"It was a good performance against Brighton. It was important we came out and did it right.
"Brighton are a good team who played some good football. We had done our homework on them and knew what they were about.
"They made it difficult for us at first but once we got a couple of goals it was easier. We deserved the win. Everyone is full of confidence and hopefully we can take that into the final at Wembley next week."