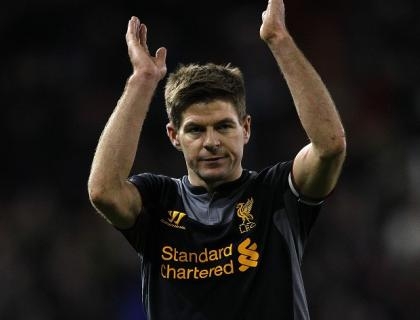 The 18-year-old has been a regular in Brendan Rodgers' staring XI this season, with his performances earning a call-up to the England squad for the recent friendly against Sweden. Gerrard is Sterling's leader for both club and country and the Jamaican-born teenager, who joined from QPR in February 2010, cannot speak highly enough of his skipper.
"He has been brilliant for me. He's always looking after me, always checking to see if I'm alright," Sterling told the Mirror. "I've noticed as well that if anyone touches me on the pitch, he'll always get them straight back with a tackle. He's always looking after me, on the pitch, off the pitch."
He added: "He looked after me when I first joined the club, got into the team and when I was looking for somewhere to live. He's an inspiration and a great captain."
Liverpool will need Gerrard and Sterling to be at their best for this weekend's match against rivals and current Barclays Premier League leaders Manchester United. It will be the first time Sterling will play United at Old Trafford, the team he admits to following when he first moved to Britain.
"I need to keep that quiet," he said. "But when you start playing for a team, you immediately start supporting them because you want to do your best for your team and you always want them to do well.
"The older boys say that Manchester United is one of the hardest places to go. The pitch is massive and in the last 10 minutes they say it gets even bigger.
"Hopefully we can go there, do our best and come out with a result even though it's going to be very, very hard - a real test.
"The atmosphere in the dressing room is brilliant. We've got Gerrard and (Jamie) Carragher, they're real characters. They're going to make us know what sort of game it is, what it's like and get us ready for it.
"They've been on us all week, telling how important it is. To have people around like that is brilliant. They've been around for so long. They love to have a laugh, good personalities and you need those characters in the dressing room."
Source: PA