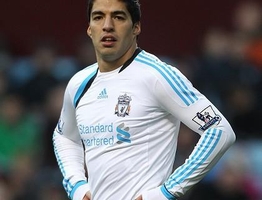 Although the Reds are not appealing the ban, they issued a strongly worded statement in support of the player on Tuesday night and he also defended himself against accusations that he was a racist and insisted he did not consider his actions in the clash at Old Trafford to be so.
Suarez said: "Never, I repeat, never, have I had any racial problem with a team mate or individual who was of a different race or colour to mine. Never."
He added: "I am very upset by all the things which have been said during the last few weeks about me, all of them being very far from the truth. But above all, I'm very upset at feeling so powerless whilst being accused of something which I did not, nor would not, ever do.
"In my country 'negro' is a word we use commonly, a word which doesn't show any lack of respect and is even less so a form of racist abuse.
"Based on this, everything which has been said so far is totally false."
Suarez has begrudgingly accepted his eight-match ban but is looking forward to the time when he can play again.
"I will carry out the suspension with the resignation of someone who hasn't done anything wrong and who feels extremely upset by the events," he added.
"I do feel sorry for the fans and for my team mates whom I will not be able to help during the next month. It will be a very difficult time for me.
"The only thing I wish for at the moment is being able to run out again at Anfield and to do what I like most which is playing football."
Source: PA