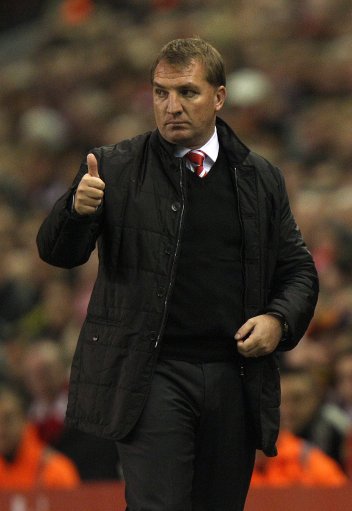 Rodgers' decisions, from team selection to tactics were quite courageous. For starters, the decision to start our strongest back four, along with Sahin, Gerrard and Suarez was brave considering the performance against Reading, and the Merseyside Derby on the weekend.
The 1-0 home win against Reading on the weekend was quite lethargic from Liverpool, as the players seemed fatigued from the international break. One that stood out in terms of fitness against Reading was Luis Suarez, and playing the full 90 minutes against Anzhi did him no favours.
Suarez looked dazed and frustrated throughout the game on Thursday, to the point where he more or less faded out of the game around minute 60. Sure, Suarez did put in a typically good shift, taking on players and setting up a golden chance for Jonjo Shelvey in the first half, but the decision to play him, certainly for the full game, could possibly be damaging.
Playing three central defenders (just like against Reading) was a good move by Rodgers: this eliminates the need for a Lucas-like role in front of the centre-halves. Nuri Sahin was the most defensive of the three midfielders, and he performed his role brilliantly, sitting disciplined and not venturing forward. Sahin also made 3 Interceptions and 1 clearance from our half. He was also our top passer, with 71 completed passes.
What was extremely good to see was our absolute dominance of the game from start to finish. Whilst Anzhi had chances towards the end, we never really looked in danger. It must be said that Agger, Skrtel and Wisdom were incredible, and didn't give Samuel Etto a sniff.
For us, Assaidi stood out as being impressive. Assaidi seems to play with a great deal of confidence, and Anzhi's right-back, Agalarov, a night to forget. Assaidi was statistically our man of the match, completing 5 dribbles, and creating 4 chances. Assaidi also completed 94% of his 53 passes.
Disappointments lied in Glen Johnson, who does not seem fully comfortable in the advanced left-wing position, and Jonjo Shelvey, who snatched at his chances.
It was, of course, our goalscorer who stole the show. Stewart Downing may not be at his absolute best, but you cannot deny that his performances this season have been carried out with a lot of desire and passion. Downing played admirably in the unfamiliar position of left-back, and we as supporters have got to admire his willingness to work hard and prove himself.
Personally, I feel Downing should start against Everton ahead of Sterling. I felt the same way when we played Stoke: in some matches it isn't good to play youngsters. Matches like the Everton and Stoke games require maturity and experience, as the opposition's style and the occasion itself may be daunting for younger players.
It was bold by Rodgers, and at least a win at home would mean the pressure is off when we travel to Russia. The fitness of the team will dictate the performance against Everton, and with 6 points off Everton who lie in fourth place, it is most definitely a must win.
Follow Kerushun on Twitter @kerushun99