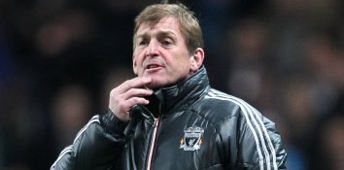 This performance was that bad, when watching the game live, whenever the camera panned to the manager's area I was half expecting to see Roy Hodgson barking orders to the team. I'm not going to analyse the game in depth, as this would just depress the most passionate of fans. The bottom line is the side's performance resembled 11 men who had the ingenious idea to go and have a kickabout after ten pints only having just met each other. Some may think that harsh but the camel's back was broken much earlier in the season. The most interesting thing for any Liverpool fan to take note of relating to Saturday's game was most definitely the aftermath of the shambolic display. I personally had told myself prior to the game that anything but 3 points against Bolton meant our feint hopes of Champions League qualification were over.
After the game in the post match media interviews King Kenny questioned the players' attitude and said if there are players at the club who think they can pick and choose games they try in, they won't be at the football club for long. The question is, has Kenny only noticed this is this latest game? Defeat against the team with the worst home record in all 92 clubs in the Football League is shocking and may have caused his outburst. It may also have been showmanship to get fans on side after such a defeat. The thing is this situation hasn't appeared on the horizon in the blink of an eye this started with Sunderland at Anfield in the first fixture of the Premier League. Players were forgiven then due rustiness, needing to bed as a team, new players settling in etc etc. When I hear these things now I just hear white noise and go to my 'happy place'. It started with the first game and with a few exceptions has continued over the season. On a positive note if Kenny really did snap as a result of this performance, reading the riot act to these under-achieving players may be the defining moment of the club's season. Only time will tell with this but every player will be under the microscope against Man City on Wednesday.
The fact that Kenny thinks this only first happened at the Reebok Stadium and his statement there is no need for 'knee jerk reaction signings' is a little worrying for Liverpool fans. The current squad is not good enough to challenge for the title and maybe even a top 4 spot. Additions are essential but don't seem to be forthcoming with us almost into the last 7 days of the transfer window. Players who just aren't cutting the mustard must be held accountable and Kenny's suggestion of dropping them isn't going to help the club. They still earn a wage whether on the bench or in the reserves. With this being a January transfer window prices are over inflated and that is the problem with FSG investing at this time. We all knew we paid over the top for Andy Carroll, the only way we could justify the price tag was due to the length of the contract. Let's face facts, we approached Newcastle, they weren't inviting offers for their star striker but they still stitched us up better than the world's most skilled surgeon. The only way Andy Carroll is worth £35m would be if had £25m in his pockets at the time. But that has gone and due to the price tag we are going to have to grin and bear this one.
Stepping off the Andy Carroll bandwagon now, there is lot more to consider. In my opinion Dirk Kuyt, Maxi Rodriguez, Stewart Downing, Charlie Adam, Jay Spearing and Jordan Henderson are not good enough to be regular starters on current form. Now three of those players won't be going anywhere having only arrived in the summer but is it time for the other three to move on to pastures new? We need to get a defensive midfielder in pronto as Spearing would struggle to get in the Bolton side and there is no time for sentiment for 'local lads' now. If FSG don't want to buy one as Lucas is first choice then why aren't we making moves to loan a player for this position? A striker is also a must, preferably two, but it doesn't even seem as though one will be coming through the door. We need a creative centre midfielder to add that 'va va voom' to our dull midfield. We thought we had acquired a winger in the summer which left the need to bring in another but it is questionable as to whether we have any, Craig Bellamy aside. Even Newcastle are strengthening their attack which so far has been far more prolific this season. What makes all this worse for Liverpool fans is that the side are constantly being linked to sensational signings for the last 22 days and there is no movement at all in the Anfield boardroom.
Facts are at the moment the only hope of silverware we have is the Carling Cup and FA Cup. With games against Man City and Man Utd in those respective tournaments in the space of 7 days, that could be a realistic dream come Sunday but we also have the harsh reality that our season could be over before the end of January. A lot of media sources are even starting to give odds for who will be the next Liverpool manager, I think this is unnecessary as Kenny has enough respect from the club that no change would be made mid-season as that is not how Liverpool have done things unless their hand is forced. Without investment I can't see change but this next 7 days will be defining for players and their manager and unless Kenny can flog the current crop into shape, players he has shown faith in could ultimately cost The King his job. Interesting times ahead but again for all the wrong reasons. However wins over both Manchester clubs will take people's minds off the Premier League situation, for a short time at least.