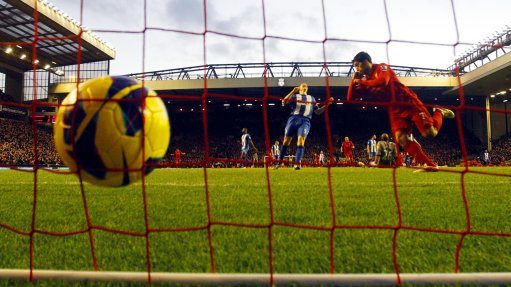 From the first half line-up, the ease at which we created chances and the brilliant performance from Jose Enrique in an unfamiliar position made for one of the best 45 minute displays of the last 18 months.
Rodgers' decision to once again go with the 3-4-3 resulted in a highly toothless attack. We do not seem to have grasped the 3-4-3 formation, and our players perhaps do not have the tactical nuance to comprehend fully a very strategic formation.
The first half also saw Glen Johnson playing on the same wing as Jose Enrique, as well as Suso playing behind the striker, where he did damage after coming on in the 1-1 draw against Chelsea last week.
The 3-4-3, in theory, requires short passes and intelligent movement from forwards – something that just wasn't happening for Liverpool in the opening 35 minutes.
At which point, Rodgers made arguably his boldest in-game move: bringing on Jordan Henderson for Suso.
The changes paid much dividends in the second 45, where we seem to have changed to a 4-1-2-3, with Allen sitting in between Skrtel and Agger, much like Lucas does. Wisdom and Johnson provided width, behind Sterling and Enrique, and Gerrard had a very free role. Henderson's athleticism means he is able to efficiently be a box-to-box midfielder – a role he carried out typically well.
Suarez's first goal showed just how effective the changes were – sure, it was off a mistake by Wigan, but as Sterling looked up to cross, he had Suarez through the middle, Enrique at the far post, and Henderson and Gerrard arriving late in the box. Attacking options, something we never seem to have.
The second half also saw us abandon patience and short-passing for a more direct style, where we exploited the wings. Enrique and Sterling, playing on the left and right flank respectively, played on the wing of their favoured foot, meaning cutting inside was not an option. This worked as it allowed us time to get bodies in the box and we did not see a scenario where a player cuts inside only to have a wall of opposition defenders in his way.
Notable performers were Enrique, Henderson and Suarez. Luis Suarez is easily the Premier League's best player at the moment.
The time for experimentation is over. Perhaps this direct style – much seen in the Benitez era – is the way forward, especially at this moment in time where Liverpool's next 9 games (bar Spurs) are winnable.
A comfortable home win has not been seen in a while. The second half performance was superb: Liverpool were in full control and, for the first time this season, the chances seemed to flow with ease.
Follow Kerushun on Twitter @kerushun99