A professional performance against the league leaders resulted in Kenny's men coming away with a 1-0 advantage to take back to Anfield. After a bright start which resulted in Steven Gerrard converting a spot kick, Liverpool matched their opponents tactically and physically with Pepe Reina putting in a world class performance we are more used to seeing from the Spaniard. There is no doubting that the return of the side's talisman captain has injected a confidence and passion into the team that has been somewhat lacking this season. The early goal really silenced the home crowd for the remainder of the game and it seemed Manchester City were lacking three things... one's a title, two's Kompany, three's a crowd!
The most pleasing thing from the game was preventing the home side from scoring, a feat that hasn't been a common sight with the league leaders who boast a formidable home record. The spat between Mancini and Gerrard showed every Liverpool fan how much they have missed their captain but more importantly how much their captain has missed being involved in first team action. One thing is for sure he is pivotal to the side and his world class abilities to change a game in an instant, coupled with drive and passion make Liverpool a completely different proposition with him and it is integral we keep him fit to stand any chance of achieving our goals for the season.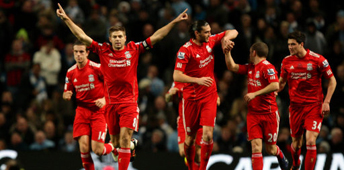 A home game against Stoke City in the league offers a different challenge with Liverpool needing to put a run of wins together to push for Champions League qualification. This season home games that the Redmen are expected to win seem to be our Achilles heel but there will be a certain person looking to top off a successful week by capping off a contract extension with a convincing three points. Things are moving in the right direction on the pitch with the defence looking strong, the engine of the midfield returning and we can only hope this has a knock on effect to inspire some of the underachieving players to play to their potential. Andy Carroll must fancy a starting berth with Suarez's ban, keen to start marking performances with goals. Jordan Henderson and Charlie Adam should thrive playing alongside Gerrard and start showing more consistently why Liverpool forked out for them. The misfiring Kuyt and Downing need to start churning out shifts that provide more meaningful contributions both in terms of goals and supply for Carroll & co on a regular basis too.
Tony Pullis' men will provide stiff opposition but providing Liverpool bring their 'A-game' Kenny's men should have too much in their locker for the visitor's to even dare dream of coming away with any points. As ever they will be dangerous at set pieces but providing Liverpool start being more ruthless in front of goal they will prove too heavyweight an opponent for Stoke to prevent all the spoils going to the Anfield outfit. With sides faltering often in and around the top four spots in the Premier League a string of successive victories could propel Liverpool up the table as Harry Rednapp's Spurs have shown this season. Let's hope that all Liverpool fan's can look forward to their slot on Match of the Day and watch a convincing home victory as is always expected of Liverpool at home with the 12th man putting in yet another sterling performance.