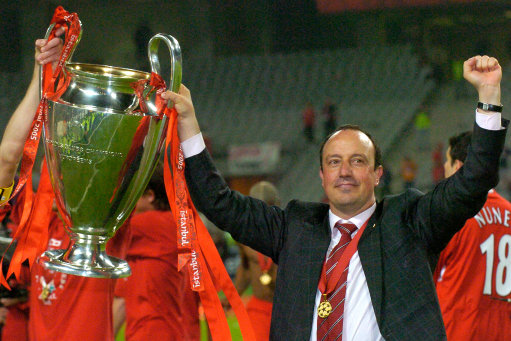 ...days when I wish that John Henry and his compatriots at FSG had bothered to speak to him last summer because Rafa understands the Liverpool fans. Because Rafa is, when all is said and done, a Liverpool fan.
But then I remember the reasons that I was disenchanted with him in the last year of his reign. I remember that he was too busy conducting private (and very definitely not so private) battles with the owners to concentrate on actually winning the league for us in the season that had been our single best chance in twenty years.
And then again, I remember the glory; Istanbul, Cardiff, beating United 4-1 at Old Trafford in the same week we beat Real 4-0 at Anfield, winning at the Nou Camp. I think of the fact that when Liverpool 'let him go' that Benitez donated swathes of his severance money to local charities; that he significantly donated 96k to the Hillsborough Family Support Group. I still feel an attachment to Rafa. I always will. And tonight more than ever.
Rafa should never have been the manager of Chelsea. It was a ridiculous decision to give him the role. Perhaps Chelsea fans may wish to question the decisions of the man who gave him that role a little more strenuously? Perhaps they could have taken their anger out on Abramovich for the appalling treatment of Roberto DiMatteo rather than greet their new manager with the torrent of abuse that they chose instead to provide.
And there's the other reason that Rafa should never have been given the position; when, as Liverpool manager, he criticised Chelsea fans for lacking desire, for needing the club to provide multitudes of small plastic flags to wave, when he indicated that they were not as knowledgable, experienced or passionate as Liverpool fans, he meant it. It wasn't gamesmanship, the actions of a manager paying mind games; that was what he thought of Chelsea fans in comparison to Liverpool fans.
And he clearly still feels that way.
Chelsea fans were never going to accept Benitez. He would never be loved there. In the same way that Torres has never really become a Chelsea player. And that's okay; in their position we would all feel exactly the same. Their behaviour to their new manager was a disgrace. An understandable and completely avoidable disgrace but a disgrace, nevertheless. Liverpool fans are adamant that Chelsea don't deserve Rafa; the club isn't good enough for him, it lacks class ( and isn't that that sentence going to cause trouble?)
So while the inevitable complaints follow, remember this; I didn't give you Rafa. Rafa didn't give you Rafa. Roman gave you Rafa. But you can't complain about Roman because he gave you everything that you are. No Roman, no success, it's an easy equation but one nobody seems too happy to ponder for too long. Roman can do anything he likes, hire anyone, fire anyone. You're his toy. That's the bargain you made for those league titles, so while fans ring phone ins and complain "look what he's done to our club" yes, look what he's done. Given you everything you would never have had otherwise. And. It's not your club, it's his.
So, while Rafa rails against the word interim being put into his title after he'd accepted the job, he realises that there was never anything he could do about it; he was powerless before Roman. Just like everybody else.
But again, tonight Rafa proved one thing; he is still, and always will be, a Liverpool fan. He's one of us.
And, in fairness, he has accomplished one thing in his time at Chelsea; he's got the fans making their own banners at last.
Check out Ian's blog Mumbling Into The Void and follow his mumblings on Twitter here.
Want to write a guest blog for LFC Online? Get in touch