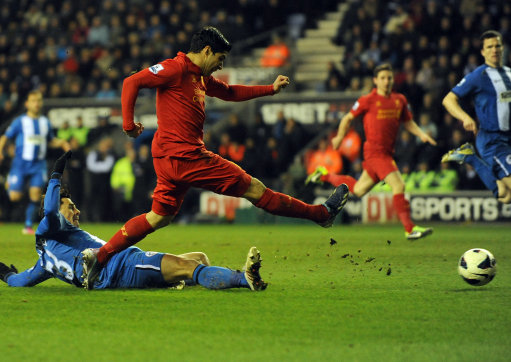 His vision, of course, sadly failed to materialize. With ten games to go in the current season Brendan Rodgers has a more limited ambition but it may prove to be as much of a challenge. The Northern Irishman has demanded that his "group" finish strongly and set themselves up for next season. His ability to motivate players with no trophies to compete for may tell us much about both him and the squad.
I have resisted putting down on "paper" too many thoughts about Brendan Rodgers' tenure at Anfield this season. It has been a campaign filled with inconsistency that has defied an easily drawn or definitive conclusion on where the team's future may be heading. The pitfalls of writing contemporaneously about the club influenced by an emotional response to events and results are clear, not that that justifies lacking the courage to do so. Anyway, enough of my excuses.
On Saturday I watched the game against Wigan on a small screen with the sound down as I was supposed to be working. The one advantage of no commentary or input from others was that it left me with a very clear opinion; Brendan Rodger's has enough about him to bring success back to the club.
As I plant that flag in the ground the reasons not to make such a statement crowd in, demanding a hearing. The case against him, one with which I have often found myself nodding along to, consists mainly of four arguments that on closer examination may not carry as much weight as the emotional turmoil of watching an inconsistent team suggests they might.
1. He's FSG's man and they are clueless as shown by the dismissal of Kenny Dalglish and their clear inexperience in English football. It follows, therefore, that their man must be equally lacking. Rodgers' pedigree is obviously light but it is too early to dismiss him as incapable of learning on the job. The emotional fallout from Dalglish's departure and the implication that FSG sold out the club's ambition in the appointment of Rodger's have obvious validity but they don't ultimately reflect on Rodger's ability.
2. His proclivity for clichéd sound bite proves he is a "middle manager" who ultimately will fail to inspire top professionals. The table was well and truly set for this viewpoint with the exposure that Being:Liverpool brought in his early months at the club and he has confirmed suspicions that verbosity was not a camera induced affliction with numerous press conferences . While his style may at times be cringe-worthy it takes on a greater significance when results are poor. If the team is performing it becomes an irrelevant side show. In essence, unless it loses him respect among the players, it doesn't matter. There is no obvious sign that this is happening.
3. His dealings in the transfer window have been suspect. With the signing of Borini and Allen Rodgers has added two players that fit the profile of young players that FSG favour. Neither one has established himself as a fixture in the side and in describing them as a player to get the fans off their seats and the Welsh Xavi respectively Rodger's did both players and himself a disservice and gives detractors wielding Point 2 above additional ammunition. The January purchases of Sturridge and Coutinho have gone some way to balancing his record out and of course both Borini and Allen have the potential to settle and improve their impact. They certainly represent a better gamble than the likes of Joe Cole.
4. He is tactically naïve. The main evidence proffered in support of this is the poor points return against sides in the top half of the table and, for different reasons, defeats against Oldham and Zenit in the FA cup and Europa league respectively. This charge comes with the greatest sting given that Rodger's prima facie qualification for the job was his self- heralded philosophy. Whether it was Tom Werner's promise of "relentless attacking football" or Rodger's own "death by football" the assurance was clear; tactical discipline and a distinct method of play was the Rodger's route to success. The decision to omit Jamie Carragher at Boundary Park and the inclusion of an out of form Joe Allen in St Petersburg left the manager defending his reputation. For me the inability to dominate Aston Villa and West Brom at Anfield raised bigger questions. Countering this Rodger's has sent out a team that has out played the current champions, held its own against Arsenal and fallen to undeserved defeat by United. The performance in the 2nd leg against Zenit was that of a side displaying an understanding of what was required of them. The substitutions immediately following the third goal were questionable given their potential effect on momentum but Shelvey missed a golden opportunity to prove the manager right.
So what was it about the Wigan performance that tipped me, if not exactly into the Rodger's camp, then at least less inclined to be swayed by the objections to him? Firstly, the work rate and simple enthusiasm for playing was notable. Given that it followed on from the defeat at Zenit it was a sign that the players responded to Rodger's insistence that they finish the season strongly. They displayed, typified by Carragher and Reina's delight at one of the Spaniards many fine saves, a determination and pride that bodes well for the future. It has been a feature of Liverpool sides going back two decades now that lack of character has been their downfall as often as lack of ability. It was encouraging, that a game with all the ingredients for a sulky lackluster performance, instead produced a performance of attacking verve and defensive solidity.
It has been rare this year that these two attributes have been seen together and a soft underbelly exists which has hampered progress. It appears that with the signing of Sturridge and Coutinho, to complement the outstanding Luis Suarez, Rodgers has assembled an attacking potential to frighten any premier league defence. If he can find another Sami Hyppia to bring a physical presence to the back line then there is every reason to be optimistic. Clearly there is much to be done and, absent the cup finals of last year, progress is a controversial word to apply to what we are witnessing. However, the signs are there that progress is in fact what is happening even if it remains fragile.
The job of Liverpool manager is one of the toughest in football. Some fans have portrayed Rodger's as a fraud but given that he has had to operate with largely absentee owners, apparently strictly enforced transfer controls, the burden of following a club legend and his own inexperience with the level of scrutiny the position brings he has sent out teams that have produced some marvelous football this year. There is nothing to indicate that he is not aware that targets must be set higher.
Ultimately I don't think Kenny Dalglish should have been sacked but Rodgers wasn't responsible and he has given us some fine football this year. The next ten games, with the possibility of European qualification still at stake, may well tell us if the players have truly bought into his ideas. If they continue with the level of commitment on display at Wigan then he will deserve respect for navigating a difficult first year in the job.
While as supporters we would hope that the club would only ever set its standards as high as its past achievements there also has to be a recognition that FSG are stewarding the club their way. There are many elements of their ownership to be at the very least skeptical about, if not outright hostile toward. However, the appointment of Rodgers is a decision that requires patience given the manager's pivotal role. It represents a dilemma if you genuinely believe he is not capable or suitable. I think we clearly saw an example of the latter during Roy Hodgson's time. I don't think we are anywhere close to that with Rodgers. Those that are hyper critical of him perhaps miss that his potential has already been seen in performances against Swansea, Norwich, Man City and Wigan among others. Nothing can probably prepare you for the scrutiny the Anfield dug out brings and at 40 Rodgers is young to bear such responsibility. His ego, seemingly, can lead him to make less than circumspect statements to the press or talk in "Brentisms" but that ego is also required in order to believe that he can impose his personality on such a huge club. The fact that he could get his team to perform as well as they did at Wigan suggests he is getting more right than wrong.I for one am convinced that he has earned another season. The next ten games may tell us whether we can genuinely look forward to it.