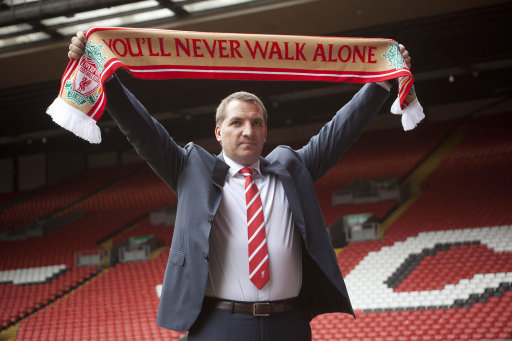 Overperforming with style
Brendan Rodgers' team earned near-universal praise last season for its fluid possession-based football. Swansea massively overachieved by finishing in a comfortable mid-table position, a mere five points behind a misfiring Liverpool. Kenny Dalglish's side had also been commended from some corners for its commitment to fast-paced attacking football – indeed, aside from varyingly plausible protestations of "bad luck", Dalglish's main defenders focused firstly on the fact that the football had remained entertaining, especially in comparison with Roy Hodgson's infamous tenure.
But, of course, attractive football isn't everything – even combined with his impressive record in the domestic cup competitions, it wasn't enough to save Dalglish's job after a profoundly below-par league season. Champions League qualification was the aim, and Liverpool didn't come close to challenging for it, missing the target by 18 points, despite a squad value which would suggest that fourth-place (the traditional threshold for Champions League qualification) would have represented a realistic and achievable aim. For more on this, see Paul Tomkins' article which shows, among other things, that Swansea, who had by far the cheapest playing squad in the league, paid just £152k for every point. Meanwhile, that pounds-per-point figure for Liverpool was a gargantuan £2.3m.
Rodgers' footballing philosophy
So at least some of the logic behind appointing Rodgers becomes clear. The question is: what will he change at Liverpool, and how likely is he to succeed? The important thing to note is that Rodgers prides himself on adding value to teams. "My natural environment," he says, "is the training field, so I am there every day, and I can make a promise that I will improve players." He also demonstrates exhaustive attention to tactical detail, including an awareness of opponents' strengths and weaknesses.
He preaches the importance of ball retention and recycling, and this includes, for Rodgers, emphasis on team shape and positional fluency. Note that Swansea had similar possession and pass completion statistics to champions Manchester City last season. For him, having control of the ball is vital, both in an offensive and a defensive sense. This can provide moments of aesthetically pleasing attacking brilliance, but it can also manifest itself in the kind of "sterile domination" which Arsene Wenger accused Barcelona of last season. Indeed, the parallels with Barcelona are obvious, especially when one considers the influence which Spanish football in general and Pep Guardiola in particular have had on Rodgers, a self-professed "student of the game." This passage on Barcelona from The Guardian's Sid Lowe could just as easily apply to Rodgers' Swansea:
It is through possession that they feel comfortable and it is through possession that they do everything – from creating chances to preventing them, from speeding up the game to slowing it down. Even time wasting, even resting, happens with the ball. Possession is aesthetic but also anaesthetic.
The point here is that, aside from just attacking, Rodgers' Swansea used possession of the ball as a defensive mechanism, a way of sincerely minimising the chances of conceding. As a very small team, it was also the most logical and functional way of defending. It is an impressive achievement that such a cheaply assembled squad had the 11th best defensive record last season, conceding 15 goals fewer than fellow newly-promoted sides QPR and Norwich, and just two more than third-placed Arsenal.
Of course, their defensive solidity was not entirely down to ball-retention. Rodgers' teams are well-drilled off the ball too, and practice a thoroughly planned system of pressing, which relies on the team closing down the opposition as a unit, choosing the best moments to try to steal the ball according to certain "triggers" – i.e. an opponent miscontrolling. Like Guardiola's Barcelona, Swansea worked extremely hard without the ball, and they did seem to tire as the season went on, but this did not amount to an "up and at 'em", headless chicken approach. One could not be so heavily influenced and praised by Jose Mourinho without a certain pragmatism and attention to defensive detail.
His preference for the 4-3-3 formation reflects his emphasis on possession and pressing: it provides the most passing angles (in defensive and offensive positions), and the use of three forwards makes it easier to close down the opposition in their own defensive third. His commitment to a passing 4-3-3 has led to the accusation (also levelled at - you guessed it - Guardiola's Barcelona) that he lacks a fabled "plan B." There are a number of things to be said here – but most importantly, it should be noted that Rodgers' plan A is generally flexible, and can display subtle changes and nuances according the specific challenge that the opposition poses.
His is a system which can morph into various different shapes: for example, if the holding midfielder drops a few yards deeper and the full-backs push on, there results a similar yet crucially different 3-4-3. Moreover, Rodgers believes wholeheartedly that his system is the best means for achieving success – after much consideration, he is convinced that any deviation from it would make the chances of winning less likely. For example, if Swansea went a goal behind, short passes along the ground would still remain the best chance of them scoring.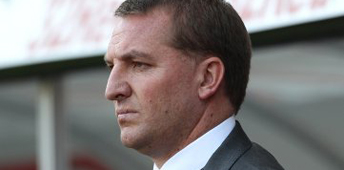 Rodgers and the current squad
So if deviating from the plan is, according to Rodgers, detrimental to the team's overall chances of success, the question is: what implications does this have for the playing staff? Those who have primarily been valued for their willingness to attempt ambitious cross-field passes and long-shots – step forward Charlie Adam – may find their playing time reduced unless they can adapt their game. Rafa Benitez dealt with Steven Gerrard's perceived tactical indiscipline by pushing him further forward, into an area where unpredictability and flair is more highly prized.
Rodgers is similar in this respect, and will surely back the likes of Luis Suarez to break down organised defences, perhaps by cutting in from a wider position than he had been used to under Dalglish, but has been comfortable with for Uruguay and his previous club Ajax. However, discipline, intelligent movement, and good decision making remain key even for the forward players, who must contribute to a functioning unit; a well-oiled attacking mechanism.
There is no reason why the likes of Craig Bellamy and Maxi Rodriguez couldn't succeed under these conditions, but Rodgers' predilection for youth (his side was the second-youngest in the league last season) might see more graduates from Liverpool's Barcelona-inspired youth academy making first-team appearances. At the very least, one would expect to see Raheem Sterling continue his assimilation into the senior squad, especially as he has a similar playing style to Rodgers' preferred wide forwards at Swansea, Nathan Dyer and Scott Sinclair.
It is clear that Rodgers' preference in deeper positions is for tidy, technically gifted and tactically disciplined players. Swansea's holding midfielder Leon Britton, for example, might be unremarkable in more direct teams but was the vital protagonist of Rodgers' ball-recycling style. His success – with a 93.5% pass completion rate, the highest in the Premier League last season – bodes well for the likes of Lucas Leiva and, perhaps more pertinently, Jordan Henderson, who may flourish in such a role. Either way, Anfield crowds will have to get on board with the inevitably high number of sideways and backwards passes which are a vital aspect of Rodgers' philosophy.
Pepe Reina is another who should be expected to improve under Rodgers, especially considering his low ebb of form in the last two seasons. His shot stopping abilities have remained fairly clear to see, but his technical passing ability and his distributional excellence was not displayed under Hodgson or Dalglish. Rodgers expects his goalkeeper to act as an eleventh outfield player, offering extra passing angles for his defenders when they are under opposition pressure. The ability of the goalkeeper to pass is vital if a team is to avoid the temptation of the long ball forward, and you can expect Reina to shine in this role.
You certainly shouldn't expect Rodgers to echo Hodgson's order for Daniel Agger to "just fucking launch it," so the technically gifted Danish defender, along with Glen Johnson, should flourish. It seems clear, however, that Jamie Carragher's preference for low-risk long passes and a deep defensive line to compensate for his creaking legs, will mean that he has no meaningful place in Rodgers' overall vision. This will be a fascinating issue for him to deal with though – we will find out how quickly Rodgers intends the team to make the transition to his preferred style of football.
This depends in part on how the club moves in the transfer window: one would expect Rodgers to seek a speedy wide forward to relegate Stewart Downing to the bench, plus a ball-playing midfielder if Alberto Aquilani isn't retained, and perhaps an upgrade on José Enrique at left back if one can be found. While André Villas-Boas failed at Chelsea in part because of his attempt to enforce changes at the club before the playing staff were ready to accept them, Carragher has already acknowledged that Martin Skrtel deserves to start ahead of him. As such, player power doesn't seem to present a significant problem.
Rather, the players will have to demonstrate that they can fit into Rodgers' preferred system, albeit after receiving the necessary training, preparation and encouragement. The question of how he deals with Andy Carroll is an interesting one. He may choose to use him as an attacking focal point, dragging opposition defences out of position with his movement and bringing other, more skilful teammates into the game. There is less pressure on this decision than there was for the previous management, though – he was Dalglish's man and, considering his price tag, Dalglish was obliged to back him. For Rodgers, however, his success does not rest on the success of Carroll, so he is free to cut his losses and replace him, or use him more sparingly as a substitute. Some of Carroll's more recent performances have shown that he could play an important part in this Liverpool side, though.
Conclusions
Altogether, we should be optimistic about Liverpool's chances of success with Brendan Rodgers at the helm. His tactical inspiration comes from some of the most successful coaches in modern football, and he succeeds in marrying the functional with the aesthetic. Crucially, the "beautiful football" label isn't just rhetoric, or a lucky label: he knows how to improve and get the best out of technically gifted players. He may adapt and evolve, but it should be to his credit that he backs his preferred system which is, after all, well thought-out, and has delivered demonstrable success in his two seasons with Swansea. Translating it to the current squad at Liverpool may pose a few interesting problems, but there are enough players already present who have been calling out for a manager of his style to get the best out of them.
Don't necessarily expect immediate success, because such a distinctive style needs time to take root and grow. He is inexperienced in the transfer market at this level, as he has previously been required to search for cut-price lower league stars and free transfers, but with the assistance of the right management structure above him, he should be fine. And while he has been saying the right things to the media so far, he has never demonstrated that he can motivate a team at such a high level, with numerous international stars. But, on the whole, the signs are good for Brendan Rodgers at Liverpool.
You can follow Phil on Twitter: @Phil_Dodds