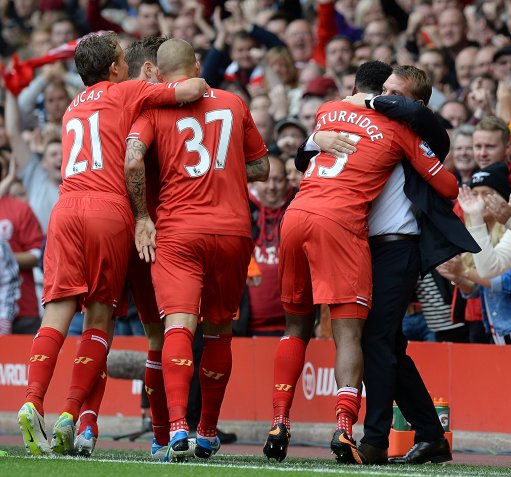 Having spent all week with an impressive unbeaten league record of played one, won one and zero goals conceded part of me was somewhat reluctant prior to the Aston Villa game as this threatened to put our great start in jeopardy. I needn't have worried; in the first half we controlled the match and made Villa look very much second best. The hosts improved significantly in the second period but Liverpool's work ethic and positioning were superb. A couple of one nil victories to start the season, very pleasing, without being expansive and explosive.
Midweek and a comfortable home tie with Notts County of the third tier. The line up only strengthened my belief that this would be a comfortable result. Apparently I had learnt nothing from previous years against the likes of Chesterfield, Barnsley and Bristol City. The eventual win came at a price with first team regulars experiencing the exhaustion of extra time twinned with three injuries collected. Cissokho left the field looking visibly distraught and I really felt for him. Joe Allen's preseason performances had reminded us all of his ability and Toure has performed above expectation. In some ways the night felt more like a defeat, we had qualified for the next round but at what cost?

We wouldn't have long to find out who we would face next. There are two things we all look for in a Cup draw, firstly a home time at Anfield and secondly a nice easy opponent. Using this concept it's fair to say that this particular Capital One Cup draw will not retain a place in my top ten. Sky Sports Ben Shepard may have felt it was a fantastic start but I was far from convinced. The first two names out of the hat, Manchester Utd and Liverpool, I wonder what the odds were on that? Immediately I thought of Suarez, who had scored hours earlier in a friendly, this would be his comeback fixture. It's incredible how such circumstances frequently occur. Eric Cantona returned from his infamous Karate kick against us in a 2-2 draw at Old Trafford and now its Luis Suarez's turn in this particular case of history repeating itself.
We live in a need to know now culture and a few days after the Notts County game the club were still to reveal the extent of those aforementioned three injuries. My initial feeling towards this was annoyance but thinking things through why would Liverpool provide a clear indication to our bitterest of rivals as to who may play at the weekend?
Thursday night, 10pm and it was time to have a serious look at the various transfer activity across Europe. With Ipad in hand I eagerly awaited the news of some Anfield arrivals. Chelsea had confirmed the signing of Willian, Spurs were talking to Eriksen and we were linked to 37 year old, Villa outcast, Shay Given! It was time for bed.
By Sunday morning our transfer activity had improved markedly. Ilori, Sakho and Moses were reportedly on the verge of signing and due to the amount of sources that reported these impending arrivals there appeared no reason to doubt. Utd at home and once again I found myself with that all too familiar sense of nervous trepidation.

The feeling of deja vu with our first three games has been extraordinary. All won by the same margin, the same goal scorer, each with first half goals. There's also been the hint that, on each occasion, the points may well have been thrown away in the dying minutes. That air of inevitability, whereby in recent seasons, a late equaliser was on its way, thankfully failed to transpire on all three occasions thanks twice to Simon Mignolet from Walters and Benteke and once to the miss-firing Robin Van Persie.
The three new signings watched from the stands. Having never seen Ilori or Sakho play in the flesh it's difficult to know how good these new players are but the latter is talked about very highly in many quarters. Moses too, will add quality and suits the Brendan Rodgers philosophy.
The loaning of Borini is a win win situation; hopefully he'll be given plenty of game time and return fully acclimatised to the English game with a number of Premier league goals to his name.
Arguably our best signing was the enigmatic Uruguayan. When Suarez sunk his teeth into Ivanovic at the tail end of last season I believed it to be the beginning of the end for his Liverpool career. A summer of unhelpful interviews, obscure bids from Arsenal and an open understanding of his fondness for Madrid convinced me that come Tuesday 3rd September Suarez would be gone. Incredibly that's not the case, our club has stood firm and resisted all interest. Whether we will see the same energy, enthusiasm and level of performance remains to be seen. He could still depart in January if Real find themselves adrift of Messi and co but for now he plays for, top of the table, Liverpool and as fans we once again put his indiscretions to one side and support the floored genius in that famous red shirt, like the song says, we just can't get enough.
The media are talking about Liverpool again in varying degrees. Mark Lawrenson feels we'll fall just short of the top four while conversely some at Sky think we can contend the title. The one thing this start has provided me with is a confidence that there will be more highs this season than the previous quantity of lows.
Latest Forum Discussion