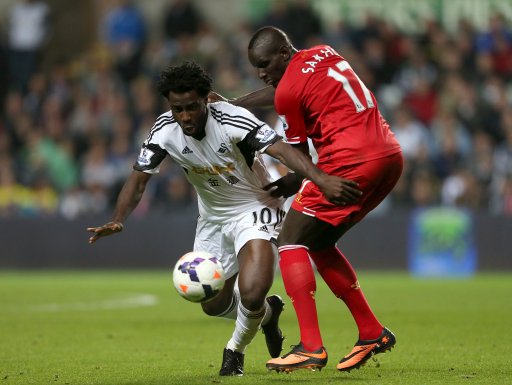 Mamadou Sakho made a couple of fundamental and crucial errors while filling in for Daniel Agger, both of which lead to a goal. If anything Sakho's performance has highlighted a couple of expectations I have developed as a Liverpool fan.
I've begun to assume any player Rodgers signs will be a natural fit, who has simply been overlooked by clubs who have no idea how to spell Sabermatics, let alone financial fair play.
This is mostly attributed to Sturridge, Coutinho and in a lesser part Michu, all players that Rodgers selected, either unheard of or forgotten, who are currently setting the Premier League alight. Despite this, as has been proved by Borini and to a lesser extent Allen, it's safer for my emotional stability to assume nothing of a player until they genuinely prove themselves. Sakho showed real class on the ball with his footwork at times, this was immediately juxtaposed with some pretty fundamental problems in dealing with the aerial balls from Swansea, something, which given his height, I took for granted.
Daniel Agger is much better than he gets credit for
When the team sheets reared their heads as part of a sequence of headphone clad players looking very serious while arriving at the Liberty stadium, I was surprised not to see Agger, and excited to see Sakho. I assumed Agger had picked up an injury, I also assumed Sakho would fill this gap quite naturally (see the point above). There is something intrinsic to be said for experience which often goes unnoticed. The Premier League is fast, we know this, but it is also very dynamic in its range of styles. As a defensive player you are subjected to a diverse range of tactics on a weekly basis. Swansea was no different, with short aerial balls to supply Michu the order of the day. Sakho spent much of his first game getting to terms with the style of the game, not to mention actually trying to defend.
Kolo Toure deserves all the credit he gets
When comparing this debut to that of Kolo Toure, the difference is stark. For one, Kolo has a wealth of experience in the Premier League. The assured footing this gives him and in turn Liverpool is uncanny. Without overtly trying to describe how experience can be defined, Kolo has the innate ability to sense danger, and using this to position himself very effectively to intercept and turn over the ball. Sakho often found himself dangerously trying to regain lost ground, or chasing a position instead of defending one. He will overcome this, with Swansea being one of the teams most capable of pulling players out of position.
It should not go unmentioned, Liverpool were missing no fewer than three first team players against Swansea. It should also not be forgotten that Suarez is yet to play in the current campaign. A strike force consisting of Suarez, Sturridge, Coutinho and Moses is as mouth-watering a prospect as it is lethal. Regardless of style, the best is yet to come, especially with Luis street fighting his way around the field to prove a point.
So, where does this leave Liverpool?
Well, put simply, top of the league. Without being cynical, I think it is best to take this statement with a large pinch of salt, and perhaps a shot of tequila. There are thirty four games left and plenty of upsets in store.
Liverpool continue to be a dark horse, while the loss of Coutinho had a notable impact on Monday night, extrapolating this into games or spells give an indication of the impact of losing an influential player can have.
Alliteration aside, Rodgers seems to have started the 13/14 season with a very different approach. In terms of winning games, one cannot argue that the fewer goals you concede the less you need to create. Whether this has come off a heavy bout of Melwood based number crunching, think DePodesta with a scouse accent, Rodgers' applying a new approach to success, or a shrewd combination of the two, it is unclear.
However it has been formulated, is has been successful so far, building a team defensively sound that has the ability to penetrate defences when required would take some beating. As much as I hate to say it, it also reminds me of the kind of thing Mourinho would do "The first part of winning is not losing" with a room full of journalists prostrated in front of him.
Some of the oldest managerial clichés are the most relevant, and it is no different here. Rodgers must continue to keep his squad focussed on the next game, as pragmatic and simple as it sounds, managing expectations, injuries and performances will define the season and "the project"

Follow Justin on Twitter @gentjw
Latest Forum Discussion