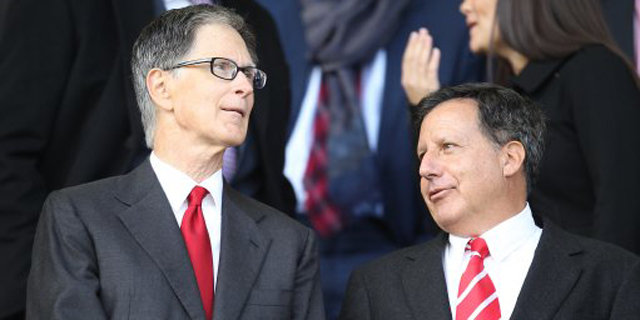 Nothing else really makes sense of the decision to allow Andy Carroll to leave without bringing in a replacement. Rodger's had previously said he would be a "nutcase" to allow such a situation to develop. In refusing to pay £6m for Clint Dempsey the club have ignored Rodger's concerns and left him with just two recognized strikers in Suarez and Borini. From a footballing perspective Dempsey would not have been a direct replacement for Carroll but he would have brought at least the potential for goals. It is understandable that Rodgers, given how he wants his team to play, was willing to let Carroll leave. If he is going to instill in players the discipline to play possession football at all times a Plan B that encourages them to hoof it up to a big man doesn't fit. However, having a lack of any cover at all upfront smacks of financial considerations dictating tactics to a degree that is much more damaging to the manager's "project".
The owners have stated that they will be playing a more hands on role in the club than last year. The last few days of this transfer window were not a particularly encouraging endorsement of that policy. I have some sympathy for anyone trying to get a grip on Liverpool's recent transfer dealings. When Joe Cole still collects £5m + annually for being a busted flush, a message that should have been gleaned from Chelsea's refusal to offer him a new contract on anywhere near those terms, it is clear that smart negotiating has not been the club's default position for a number of years. The signing of Joe Allen does, on the limited available evidence, seem like a shrewd move so there are some hopeful indicators.
However, John Henry's learning curve about the demands of the European transfer market has been steep and the reported reluctance to raise the original bid from £4m to the £6m that Spurs got Dempsey for seems a swing too far towards financial caution. Henry and FSG are beginning to have the air of reluctant owners. They have admitted to having had doubts about the initial purchase of the club and it appears that those doubts are beginning to dominate their thinking.
The whole Andy Carroll debacle is ultimately their responsibility. Kenny Dalgish's reluctance to play him on many occasions suggested that the Scot didn't rate him that highly. The original purchase of Carroll is still shrouded in conjecture. Was he a panic buy following Torres's last minute departure, a use of money that would have otherwise gone to the tax man, a moneyball purchase based on a faulty projection from the players stats? Was he Comolli's choice or did Kenny ask for him?
Whatever the truth behind the decision to lay out £35m for him one thing that is documented is that John Henry did not consider it a burden to the club. He said at the time,
"The negotiation for us was simply the difference in prices paid by Chelsea and to Newcastle. Those prices could have been £35million [from Chelsea for Torres] and £20million [to Newcastle for Carroll], 40 and 25 or 50 and 35. It was ultimately up to Newcastle how much this was all going to cost. They [Newcastle] made a hell of a deal. We felt the same way.''
So it makes no sense now to claim, as Rodgers has done, that Liverpool could not afford to have a £35m player as third striker. For the manager to make such a comment suggests that FSG now take a different view on the deal. Henry, as a hedge fund trader is accustomed to taking risks but his decision-making so far is more suggestive of a blind man in a brothel than an astute gambler. If, as seems clear, Rodgers doesn't see Carroll in his system then biting the bullet and shipping him out makes sense. Not bringing in a replacement makes none at all.
Rodger's has had a harsh introduction to the pressure of managing Liverpool. The intensity of interest in the club has seen him unsteady in his handling of the media. He has veered between a message of "I'm in charge" and "My hands are tied by financial restrictions". Appointing him was another gamble by FSG and it is now clear that they are not going to back their gamble with even a small investment beyond what the club can bring in. Again I have some sympathy with the view that the club's outgoings in recent years have been less than well assigned but hanging the manager out to dry with the loan deal for Carroll does not look like a smart solution.
Rodger's now faces two issues.
With his hostage to fortune comment about being a "nutcase" he has given himself a credibility problem. Either he was misled by FSG or his contradictory comments on whether Carroll would/should stay or go played a significant part in painting the club into a corner over the timing and terms of the loan deal. Perhaps it was a combination of both. FSG's "hands-on" approach is still largely taking place from the other side of the Atlantic and Rodgers has no experience of working under this kind of scrutiny and level of expectation. It is a situation ripe for a fiasco and it looks like that's what we got.
The second problem he has is getting results in multiple competitions with a strike force that does not have a regular goal scorer. Should either Suarez or Borini develop that killer instinct then the team remains an injury away from a return to impotence in front of goal. If neither develop it then the pattern of dominance without results that we saw in the first half of last season and in the opening games of this seems destined to repeat in an endless loop. Possession of the football is all well and good but scoring goals is better.
With the amount of games that the Europa League adds to the calendar and the other domestic cups to be contested Rodgers is going to be forced to make some difficult decisions regarding squad rotation. He is to be commended for continuing Dalglish's policy of blooding youngsters but it is now a matter of necessity rather than long term planning. It is common wisdom that players in their teens need to be removed from the front line from time to time if they are not to suffer burn out. Rodgers is unlikely to have that option and the likes of Raheem Sterling and Adam Morgan could find themselves under immediate pressure to deliver consistent performances. If results do not meet expectations then he is going to face intense pressure. There is nothing in his CV to predict how he is going to react.
The best-case scenario is that the team responds to his coaching and January comes with the club showing signs of competing at the top end of the table. That will buy the manager some time and maybe a player can be brought in during that window. It requires a faith that FSG are sending a message to the football world that they will not sanction deals that don't meet their terms and that they have confidence in Rodgers to successfully manage his current squad until the right recruits become available. If that is the case then they need to stop giving the press contradictory messages that show a massive amount of daylight between owners and manager. The fact that a best case scenario involves an element of faith that the events of this transfer window were down to incompetence rather than dishonesty highlights the weakness of a positive take on events. It goes without saying that competing toe to toe with any genuine title challenger is now a distant dream.
Henry and Tom Werner are beginning to look like fish out of water. The appointment of Rodgers could be interpreted as a bold move (it could also be read as a naïve magical thinking maneuver) but the lack of funds made available in this window smacks of a lack of courage in their convictions. It is one thing to recognise a need to restructure the club's playing squad and repair its business model. It is a different matter to try and achieve both in a matter of a few weeks. In reality they have weakened the squad at least in terms of numbers and demonstrated that they can still be given the run around in the boardroom.
It makes you wonder if Kenny Dalglish saw the writing on the wall and refused to play along. It would explain his abrupt departure. If Brendan Rodgers thought that opening home games against City, Arsenal and United were challenge enough he must have woken up on Saturday morning with a new appreciation of what he has taken on. He is going to need an iron nerve, player support and, perhaps most importantly, a good dose of luck. Let's hope he gets it.